AROGYA AYURVEDIC DIGESTIVE BLEND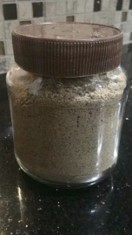 A handy Ayurvedic remedy for instant relief from indigestion related issues.
Used for common gastro intestinal problems like loss of appetite, indigestion, heaviness, bloating, gas, constipation etc
Excellent for regularizing your appetite and bowel habits.
Ingredients: Perfectly formulated using the authentic Ayurveda formula of herbs and spices like Cumin, Black cumin, Black pepper, Long pepper, Dry ginger, Carom seeds, Asafoetida and Himalayan pink salt.
This powder contains heating, pungent spices and salt. Please consult your health care provider before use if there is history of acidity, gastritis, high blood pressure or kidney issues. **
How to use:
You can use in any of these 3 ways. This powder should be used twice a day before food. Do not exceed more than 2 teaspoons in a day.
Mix ¼ to ½ teaspoon of the powder in hot cooked rice along with ghee (clarified butter) and take it with the first bolus of your meal. This is the most preferred way of taking this powder as per Ayurveda.
Mix ¼ to ½ teaspoon of the powder in buttermilk and drink it.
Mix ¼ to ½ teaspoon of the powder in warm, water and drink it.
Storage: Use air tight container, store in a cool and dry place. Keep the product always dry.
---
Expiry: 6 months.
Please NOTE **This  product is not a substitute for treating any stomach or intestinal disorders that one might have. Please consult an Ayurvedic Practitioner/Doctor before use.
---
Product Price:  $5 for 50 grams powder. Shipping cost will be charged separately.
ORDER TODAY!
Hema Embar, MBBS, AWP
Ayurvedic Practitioner
Phone: 774-777-6780 (please leave a message)
Email: daily.arogya@gmail.com
---
More products coming soon!
Write a Product Review