SHATHA DHOUTHA GRITHAM (SDG)  literally means – 100 washings of ghee (in plain water).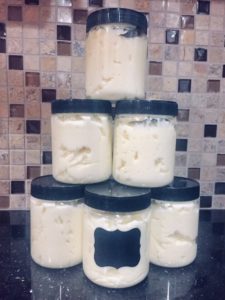 It is an Ayurveda formulated natural body moisturizing cream.
It is a special ghee (Organic clarified butter) based cream for external use
It is devoid of chemicals/additives/fragrances/preservatives.
It has no known/documented side effects. Therefore it is a safe product for liberal application on the skin.
The ghee is specially made to preserve the medicinal and healing properties.
It helps in skin healing, repair, and rejuvenation.
It is very light, non-greasy and a cooling cream
It is good for any dry, irritated and burning skin issues. This is a great relief cream to soothe the irritated and inflamed skin.
The cream is a skin toner, adds glow, skin repair and rejuvenating cream.
SDG Uses
It is very good for burning sensation from Herpes cold sores, Eczema rash, Psoriasis rash, other irritating skin rashes, great coolant for sunburns, healing for very dry skin like chapped lips, cracked feet, burns, cuts and wounds, painful hemorrhoids, etc.
It is a very good sun protecting cream in summer against sunburns.
Good for preserving the youthful look, removes wrinkles, stretch marks, scars from chicken pox, acne and also good on newborns for general massage, diaper rash, etc.
In pregnant women with unexpected bleeding or spotting, it can be applied to the lower abdomen. Also helps with pregnancy stretch marks on the abdomen.
Storage Use airtight container, store in a cool and dry place.
---
Expiry 2-4 months stored in the refrigerator.
Transfer the required amounts in small containers for daily use. Please NOTE **This product is not a substitute for treating any skin disorders. Please consult an Ayurvedic Doctor for suitable treatment.
---
Product Price: 50 grams for $15.  More quantities available at request.
Additional cost for containers and shipping apply.
Place your order today!
Hema Embar (Ayurvedic Practitioner)
Phone 774-777-6780
Email: daily.arogya@gmail.com
---
More products coming soon!