Arogya Manjeeth Mukhlep – Manjistha face pack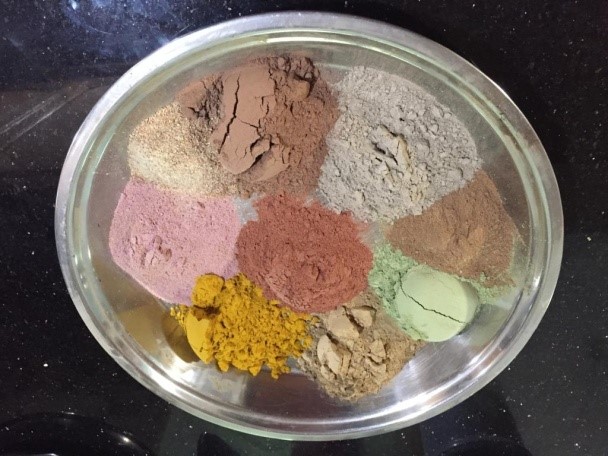 This face pack is a blend of freshly powdered ayurvedic herbs which as the skin healing properties and enhances the skin complexion.
Ingredients:
Manjishta- Also called Indian Madder/Rubia Cordifolia. It is a great blood purifier and detoxifying herb. Widely used in inflammatory skin conditions such as Eczema, Psoriasis, Herpes, Dermatitis. Also used for Acne, clearing blemishes, pigmentation and for skin whitening.
Neem- It is an anti microbial/ anti septic/ anti inflammatory/anti acne herb. Very good for pimples. It has deep skin healing properties.
Lodhra- Used for Acne- dries up the acne quickly, white heads, black heads,
Vetiver- it is a coolant, relieves burning and excessive sweating. Also good for improving skin complexion.
Fenugreek- Anti blemish/ anti acne/ anti aging properties. Also good for skin whitening. It moisturizes the skin.
Wild Turmeric- Improves complexion. It is an anti inflammatory, anti septic, anti aging, anti acne agent. Is a good blood purifier. It doesn't stain the skin yellow.
Rose- Cooling. Promotes skin complexion. It is also an anti inflammatory agent.
Avarampoo- Improves the skin complexion, gives glow to the skin. Good for black spots and blemishes.
Champaka- Good skin toner, tightens the skin. Has a beautiful relaxing fragrance.
---
Directions: Mix required quantity of the powder with rose water/ yogurt/ cream. Apply a thin layer of the paste on the face and wash off with plain water after the paste dries up.
Storage: Cool dry place in air tight containers or packet.
Product Price:  $16 for Approx 200 gram
---
ORDER TODAY!
Hema Embar, MBBS, AWP
Ayurvedic Practitioner
Phone: 774-777-6780 (please leave a message)
Email: daily.arogya@gmail.com
---
More products coming soon!
Write a Product Review