AYURVEDIC HERBAL BATH POWDER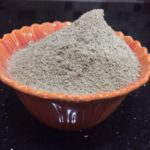 Carefully formulated using traditional Ayurveda recipes for skin health.
Provides additional softness, smoothness and glow to the skin.
Excellent substitute for commercial soaps.
Excellent for common skin problems like acne, blemishes, pigmentation, irritation, dryness etc
Excellent as a skin scrub, toner, skin repair and rejuvenation.
Ingredients used are well known skin loving herbs from ancient India. This powder is a finest blend of fresh, natural, organic and fragrant powders of Neem, Wild Turmeric, Red sandalwood, Rose, Senna Auriculata (Avarampoo) and Green gram lentils.
Devoid of chemicals, preservatives and additives.
How to Use
Daily body wash powder: Mix required quantity of powder with water to make a paste. Gently apply and scrub gently. Wash off with water. Good substitute for soap.
Daily face wash powder: Mix required quantity with rose water (preferred) OR plain water to make a paste and apply to face. Gently rub in circular motions and wash off with water.
Weekly Face pack: Mix required quantity of powder with rose water OR honey OR yogurt, make a thick paste and apply a layer on the face. After 10-15 minutes wash off with plain water. Use once or twice a week.
Storage Use airtight container, store in a cool and dry place.  Keep the product always dry.
---
Expiry 6 months to 1 year.
Transfer the required amounts in small containers for daily use. Please NOTE **This product is not a substitute for treating any skin disorders. Please consult an Ayurvedic Doctor for suitable treatment.
---
Product Price: 160 grams for $10.  More quantities available at request.
Additional cost for containers and shipping apply.
Place your order today!
Hema Embar MBBS, AWP(Ayurvedic Practitioner)
Phone 774-777-6780
Email: daily.arogya@gmail.com
Write a Product Review