Keshya Choorna (Hair Elixir)
A unique blend of hair care herbs freshly handpicked from nature, being sun dried and ground into fine powders.
This hair formula has the richness of the following herbs- Amla, Aloe, Brahmi, Bringaraj, Henna, Hibiscus- leaf and flower, Neem, Reetha and Shikakai.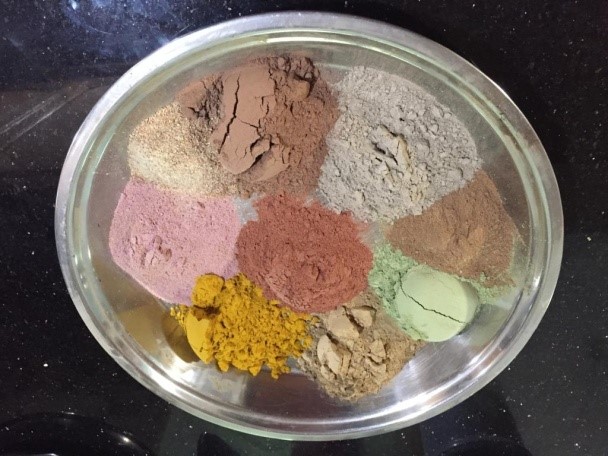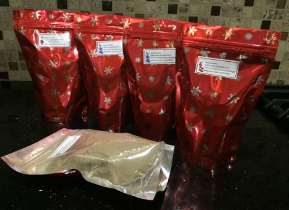 Amla– Known to prevent premature graying of hair and hair fall. It improves the hair quality.
Aloe– Promotes hair growth, Nourishes the hair roots.
Brahmi– Strengthens hair roots, Thickens hair, prevents dandruff.
Bringaraj– Known to prevent premature graying and hair fall. It is also good for the eyes.
Henna–  Gives natural fragrance, color, shine and softness to the hair.  It prevents graying and Hair loss.
Hibiscus– Both the leaves and flowers are used in hair care. Brings shine and prevents split ends. It is a natural hair moisturizer and conditioner.
Neem– Known for its anti bacterial,  disinfectant properties and a blood purifier. Good for scalp infections and healthy hair growth.
Reetha– A Natural hair cleanser, removes dandruff and kills lice too.
Shikakai– A super natural nurturing hair cleanser.
---
Usage: Take a required amount of the powder in a bowl.  Make a smooth paste with water and let it sit for 5-10 minutes.  Apply all over the scalp, hair roots and hair strands and massage with your fingers. Wash off with plain water.
Storage: Store in a dry container.
Product Price:  $16 for 200 grams Packet
---
ORDER TODAY!
Hema Embar, MBBS, AWP
Ayurvedic Practitioner
Phone: 774-777-6780 (please leave a message)
Email: daily.arogya@gmail.com
---
More products coming soon!
Write a Product Review